What is Hiatus Hernia?
Between your chest and your abdomen, there is a large, flat muscle called the diaphragm. One of its functions is to separate your chest from your abdomen, and keep everything where it belongs! There is a small hole in your diaphragm called the esophageal hiatus that allows the esophagus to connect with your stomach. Hiatal hernias occur when the opening of the diaphragm becomes enlarged, allowing the stomach or other abdominal organs to protrude into the chest. Although hiatus hernias may sound daunting, many of them do not need to be repaired.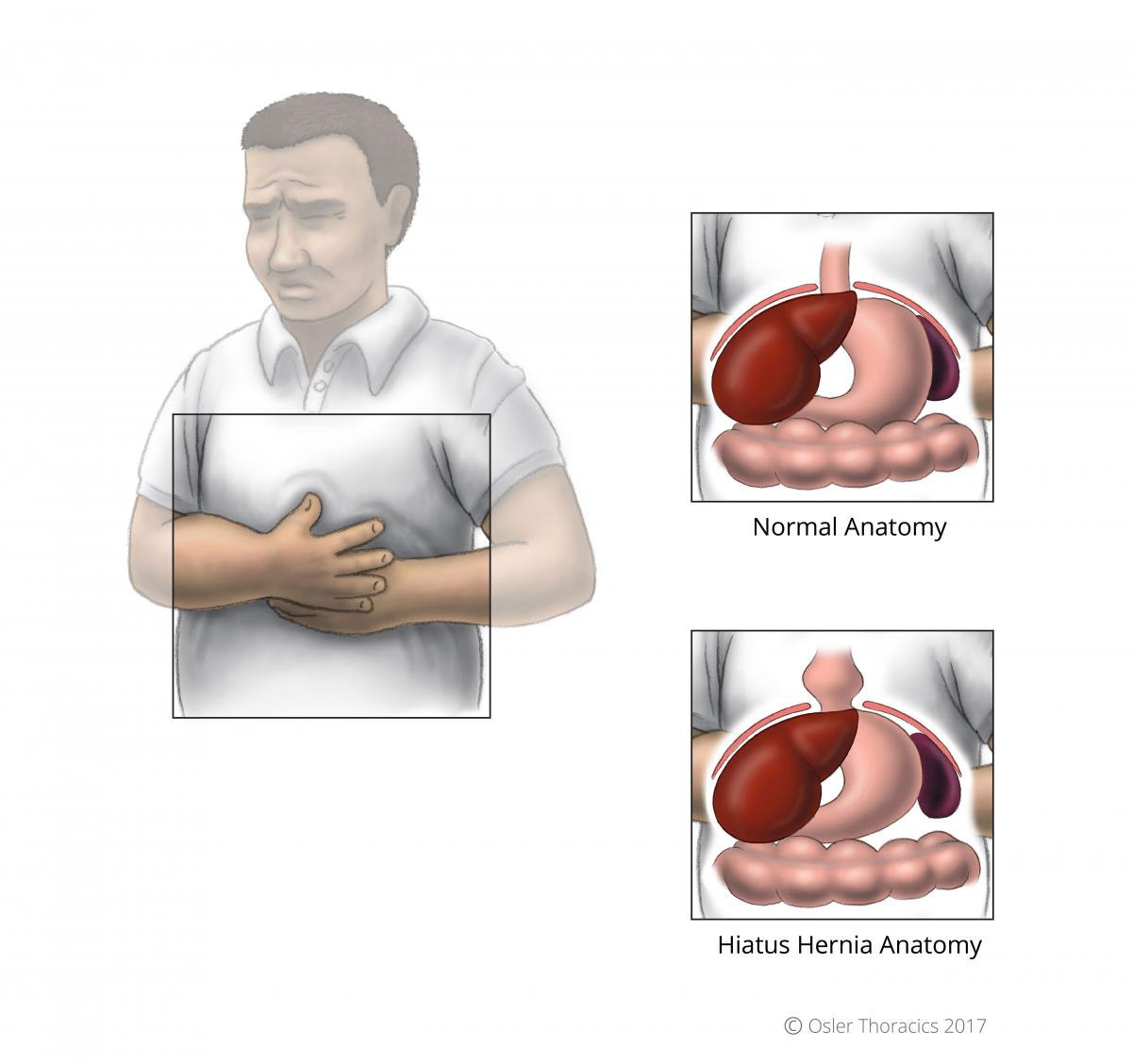 What Are the Symptoms?
There are many symptoms of hiatus hernia. They include:
Abdominal pain
Bloating
Trouble getting food down
Vomiting
Heartburn
Symptoms are often worse when leaning forward or laying flat.
When Do We Operate?
At William Osler Health System we operate on patients with hiatus hernias who have:
Symptomatic hiatus hernias
Very large hiatus hernias
Hiatus hernias that have a partial twist of the stomach, called a gastric volvulus (which can be life-threatening)
Chronic anemia with small ulcerations in the stomach. The diaphragm can put pressure on the stomach wall leading to Cameron Ulcers, which can be painful and bleed.
Symptoms that are well controlled with medication, however the patient does not want to depend on oral medications for the rest of their life
Symptoms that are not adequately controlled by medication
Other symptoms of hiatus hernias include belching, and regurgitation of bitter tasting fluid. Atypical symptoms include coughing, asthma, or other breathing difficulties. In fact, the most common cause of adult onset asthma in unrecognized hiatus hernias with gastroesophageal reflux. Very large hernias may cause difficulty breathing if the stomach presses into the chest and prevents the lungs from filling normally. Hiatal hernia repair involves pulling the abdominal organs out of the chest and back into the abdominal cavity.
REPAIR OF HIATUS HERNIA